The full scale war became a serious challenge for Ukrainians. The enemy dreamed of scaring us and ruining any plans or faith in a peaceful future. However, they were unable to achieve their insidious goals. Despite obvious hardships and obstacles, Plast scouts did not miss out on having a summer of camping. On the contrary, they did everything possible so that the children could, at least for a little while, distract themselves from the war and constant air alarms.
Yes, in 2022, many camps took place abroad — in safety. One of these was the National outdoor-educational camp "Poburlakuyemo Svitamy (Wandering the Worlds)". It was held thanks to the immense support of the Ukrainian Diaspora and Scouts from Austria. Friends of Plast worked together so that children could spend 10 full and carefree days in a circle of friends.
"FROM THE COMBAT ZONE, I FOUND MYSELF IN A FAIRY TALE"
For the first time in its long history, the camp "Wandering the Worlds" was held abroad instead of in Ukraine. Participants were 36 children from various cities of Ukraine: Lviv, Ternopil, Ivano-Frankivsk, Kyiv, Rivne, Stryi, Mukachevo, as well as from cities near the front including Kramatorsk and Kharkiv.
Most participants came from Ukraine, but some arrived from countries where they and their families escaped following February 24th.
Herman from Kramatorsk, the youngest participant I still can't believe that I was selected to be a participant in the camp. It just happened, that from a war zone, I found myself in a fairy tale. Here, I felt a sea of ​​unforgettable impressions and emotions, a lot of warmth and care, felt a family atmosphere and an incredible drive. The camp program was full of activities and was thought out to the smallest detail, that these impressions will remain in my heart forever. Each participant of the camp became a member of a large friendly family. Thank you for every day, for every minute. I love everyone.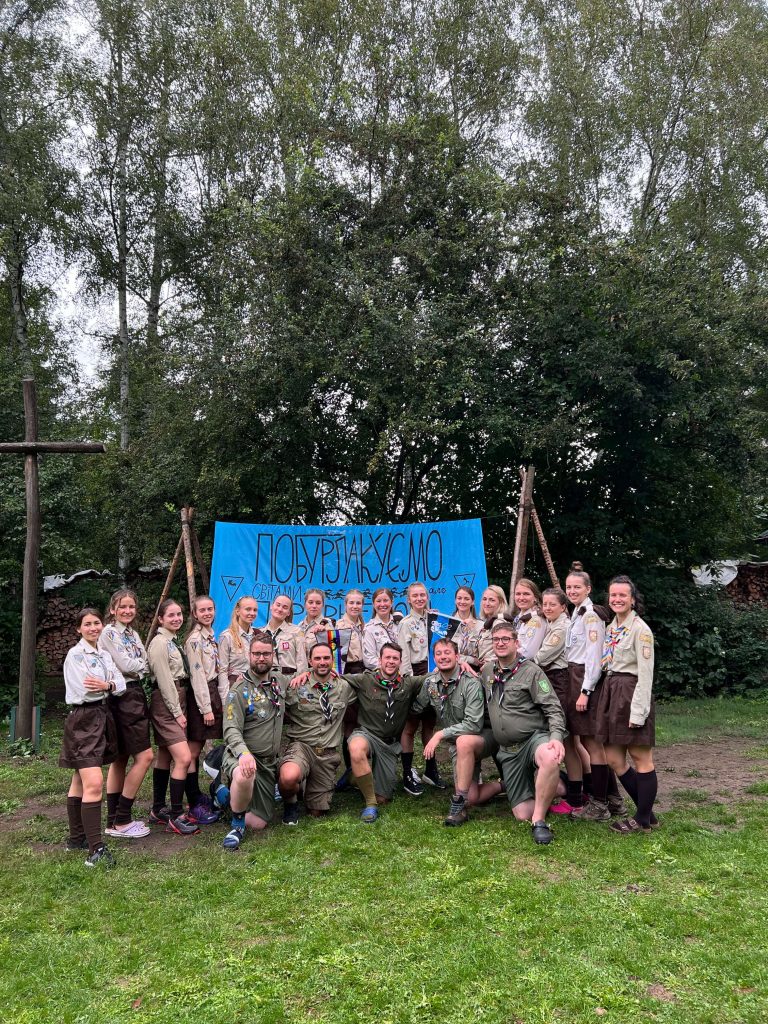 Traditionally, the camp is organized by the Plast fraternity "Burlaky" and sorority "Buntarky". In 2022, many Burlaky from Ukraine could not come — many of them were defending the homeland on the front and were actively working towards our victory. So, five members of this fraternity were invited from the United States. Other Burlaky from the Netherlands, Great Britain, Spain and Slovakia visited.
The camp director this year, Anastasiya Sliusarenko, was a participant of "Wandering the Worlds" 10 years ago. Organizing the camp in the setting of a full scale war was a significant challenge for the team.
Anastasiya Sliusarenko In the spring, we set ourselves this challenge, and by August we were happy to ride on bicycles in the rain with our campers, shrieked while in the rope park, traveled through Vienna and wet our boots on the descent from an alpine peak!
FOR THE FIRST TIME IN 15 YEARS: WHAT IS UNIQUE ABOUT THIS YEAR'S CAMP
Usually, there are certain starting and finishing points for "Wander the Worlds" in Ukraine — it is basically a week of continuous hiking. However, this time, the main program took place at a scouting campground. Uniquely, it was the first time in 15 years that it was possible to hold all 4 camp stages at once — hiking, rock climbing, water sports and cycling. All this became possible, in particular, thanks to the support of the local Austrian Scouts and Plast Scouts.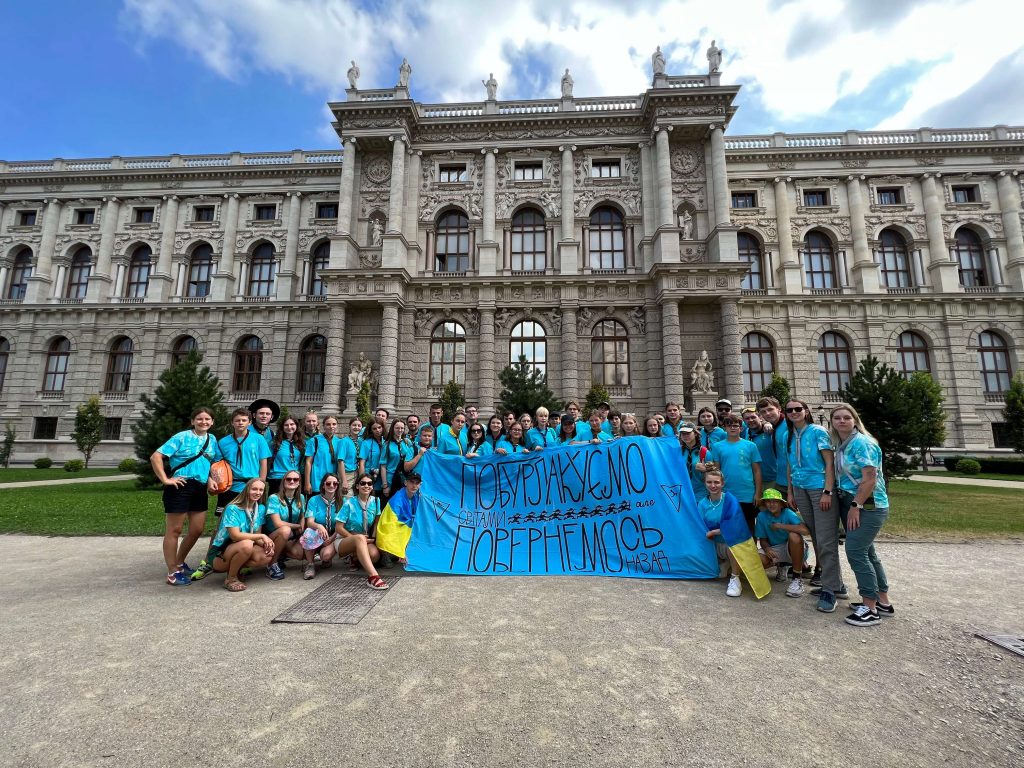 On one of the first days of camping, the participants had an opportunity to visit Kletter Park (a rope park) as an alternative to rock climbing. Children learned to use carabiners, harnesses and other equipment in practice. The Austrian instructors were very impressed by the behavior of the Ukrainian scouts — their discipline and level of organization. Because of this, they even thought that the camp sergeant (bynchyzhnyi) was a military one, because she gave orders and everyone obeyed.
"We explained that it's just customary for our scouts to be organized and obey orders," the camp director recalled.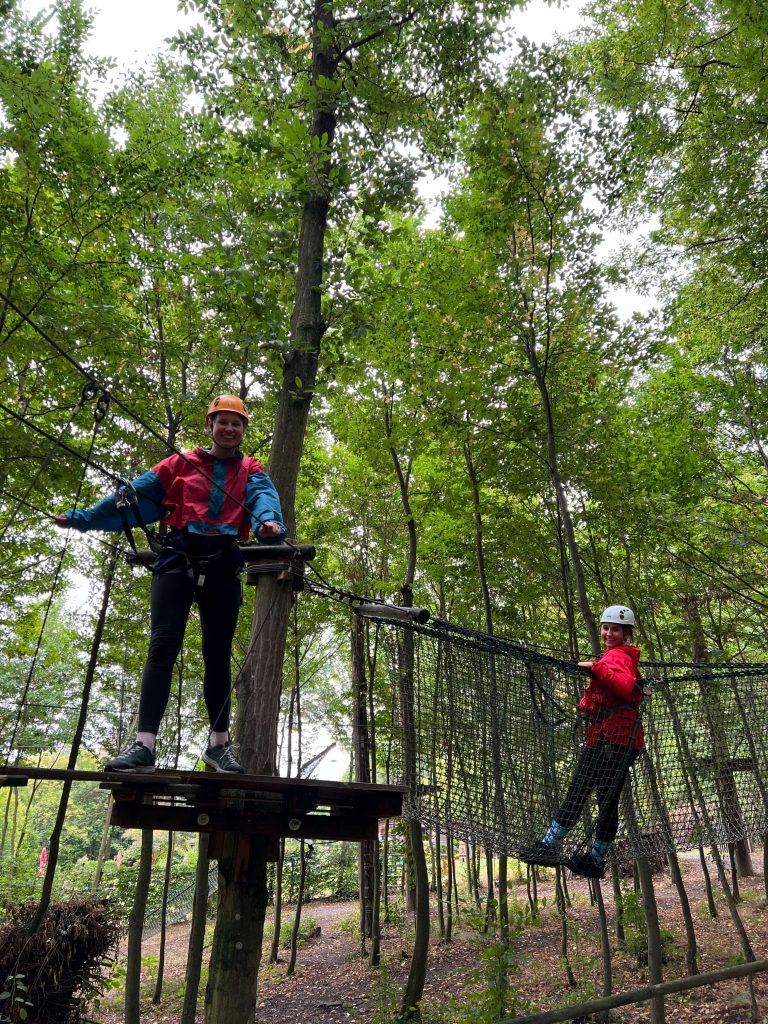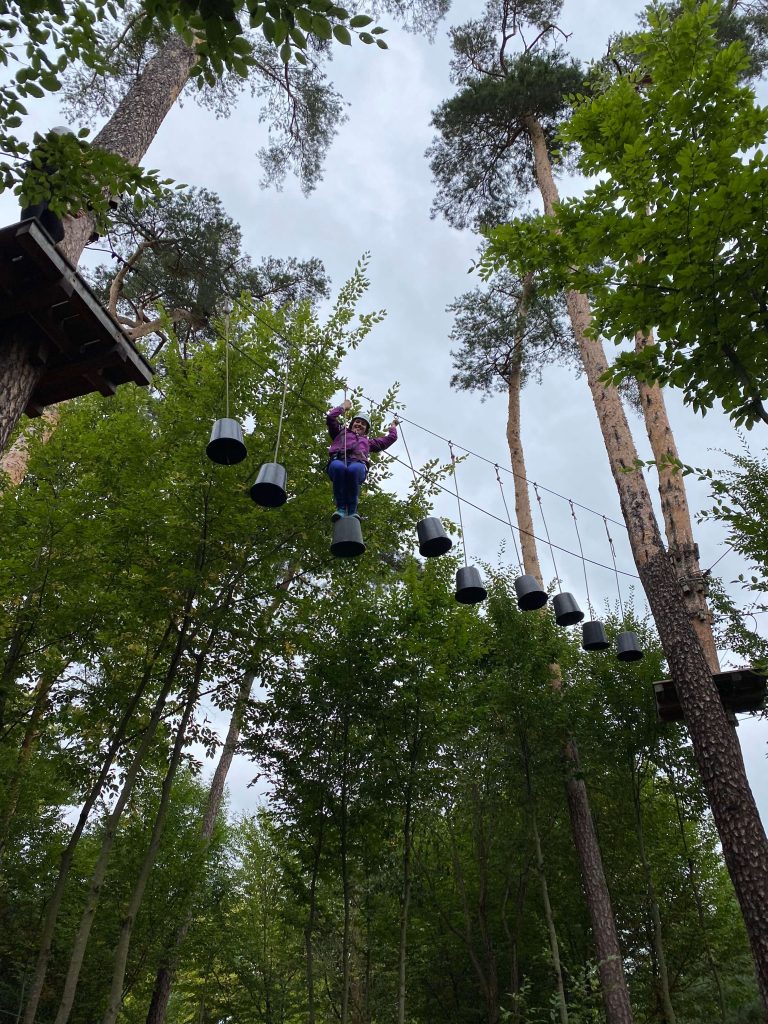 Afterwards, the campers rode bikes for over 35 km! Each participant was able to complete a bicycling themed merit badge: requiring demonstration of their skills riding on bikes with attached backpacks, proper mounting and dismounting from both sides, bypassing obstacles, and steering with only one hand. Aside from this — it's good to know the road signs and how to use a map.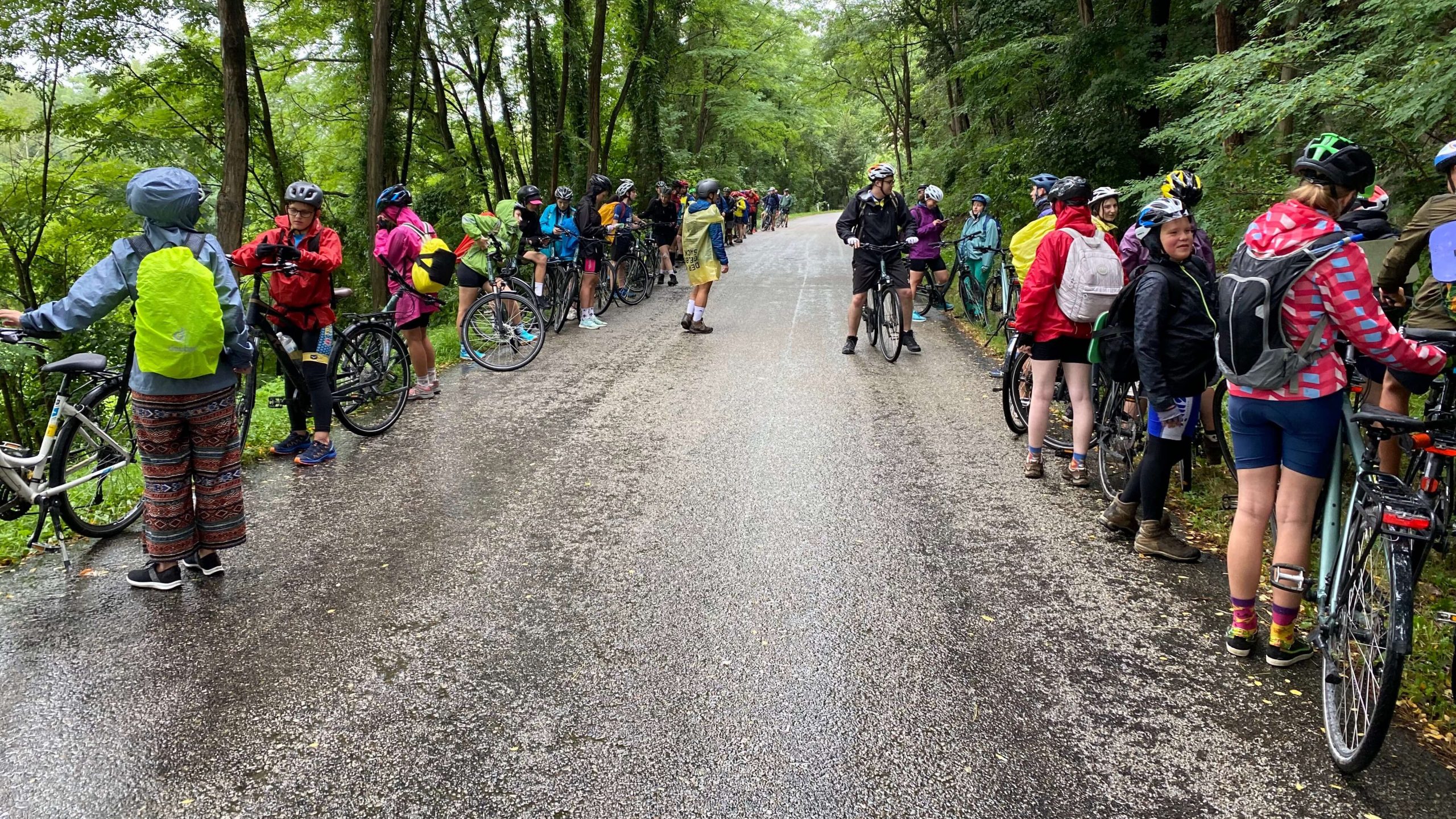 On Independence Day of Ukraine, the participants looked forward to a trip to Vienna. To familiarize themselves with the architecture of this European capital, the organizers prepared several walking tours that the campers could independently follow. There were also symbolic tasks: to take a photo with Ukrainian symbols, people in embroidery, or even to teach a foreigner to say "Glory to Ukraine".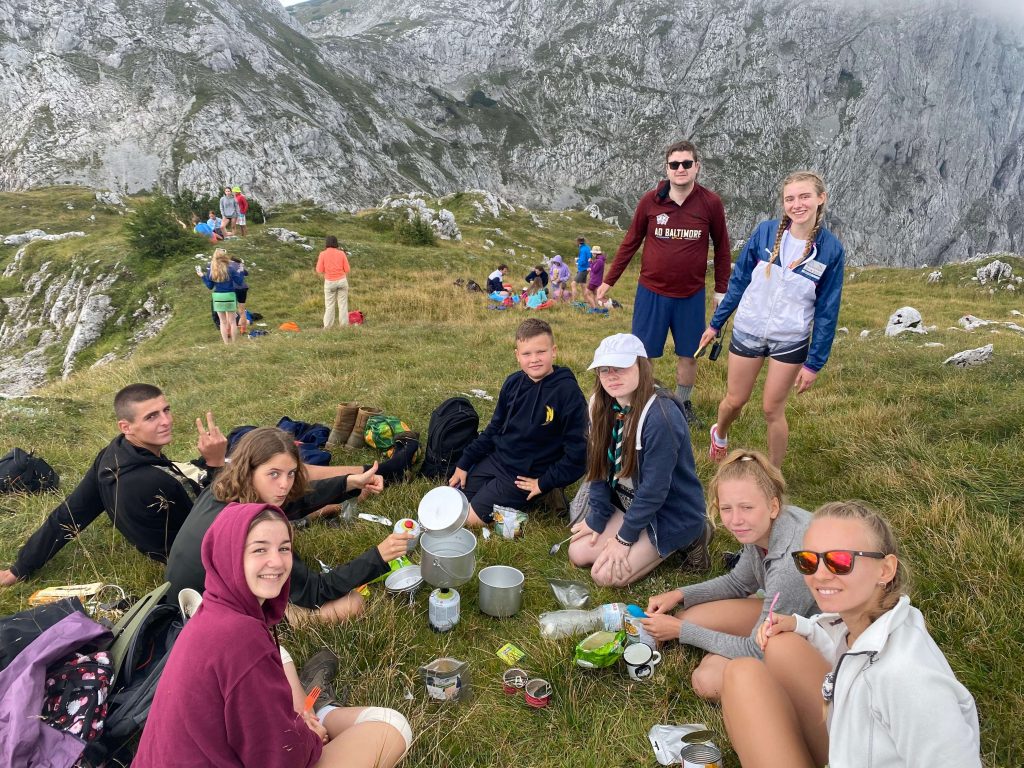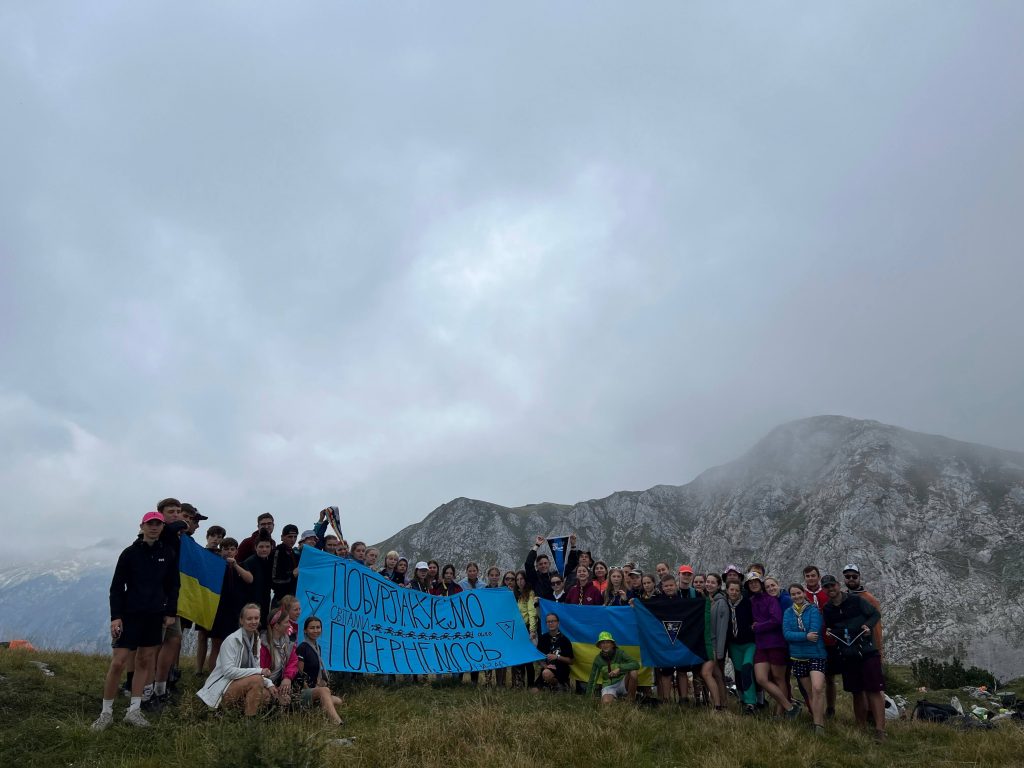 During the water sports stage of the camp, the scouts lived on the grounds close to the river, and just across the road was a pool with water slides. As well, after a 30 kilometer hike through the Austrian Alps, they climbed the peak of Kleiner Griessstein, at 1857 meters.
"While there, we were caught by a storm with hail and lightning as we were already descending. It was quite extreme, but everyone really enjoyed this adventure," Anastasiya said.
Herman from Kramatorsk, the youngest participant I want to sincerely thank everyone who was involved in the organization of this camp. You gave the children a lot of positive, unforgettable emotions, a lot of attention and care in such a difficult time. These memories will remain with them throughout their lives.
"LOCAL SCOUTS WERE VERY CONCERNED AND HELPFUL"
During the planning and implementation of "Wandering the Worlds", the Ukrainian Plast scouts became close friends with a local group of scouts, and especially with those who took care of the camp grounds. The Austrians not only showed the grounds and helped the organizers and participants of the camp to get used to it in the first few days, but also consistently shared contacts, advice, and were always there ready to provide support.
"They brought baked goods to the guest bonfire and gave these treats to the children. They were very, very impressed by the fact that we camped at their campsite and helped in every possible way," Anastasia emphasizes.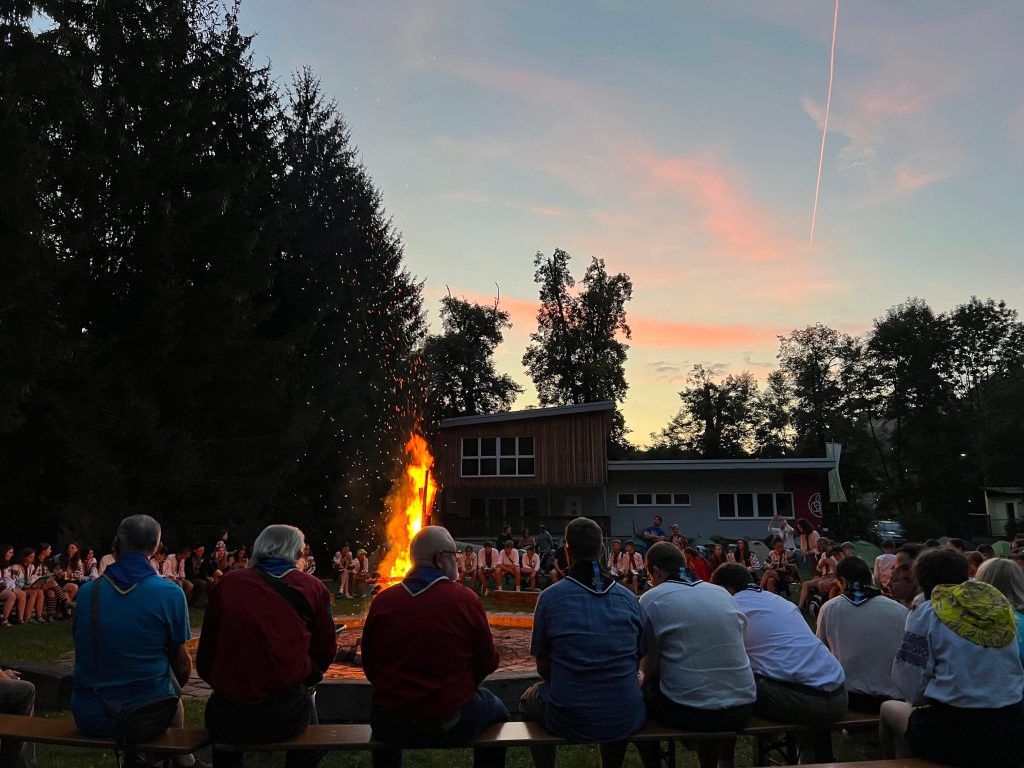 An 86 year old man rode his bicycle to the camp and it was revealed that he was one of the founders of the local scouting group. Seeing that there was a group of campers at the campground, he decided to become acquainted with them. The camp director explained about the camp: that these were scouts from Ukraine who were camping for 10 days and then returning home. This conversation was very moving for the man. He could not hold back his tears as he sincerely wished for Ukraine to win the war as quickly as possible, so that everyone could once again be in safety.
Anastasiya Sliusarenko I invited him to a guest bonfire. And he came, although he was initially unsure if he would be able to - because he is elderly and has problems with his joints. At the end of the evening, this grandfather gave me his scout scarf as a sign of solidarity, friendship and support. He burst into tears and said that everything will work out for us. It is very symbolic that the colors of the region of Austria in which we camped are blue and yellow. Accordingly, this scarf had the same colors.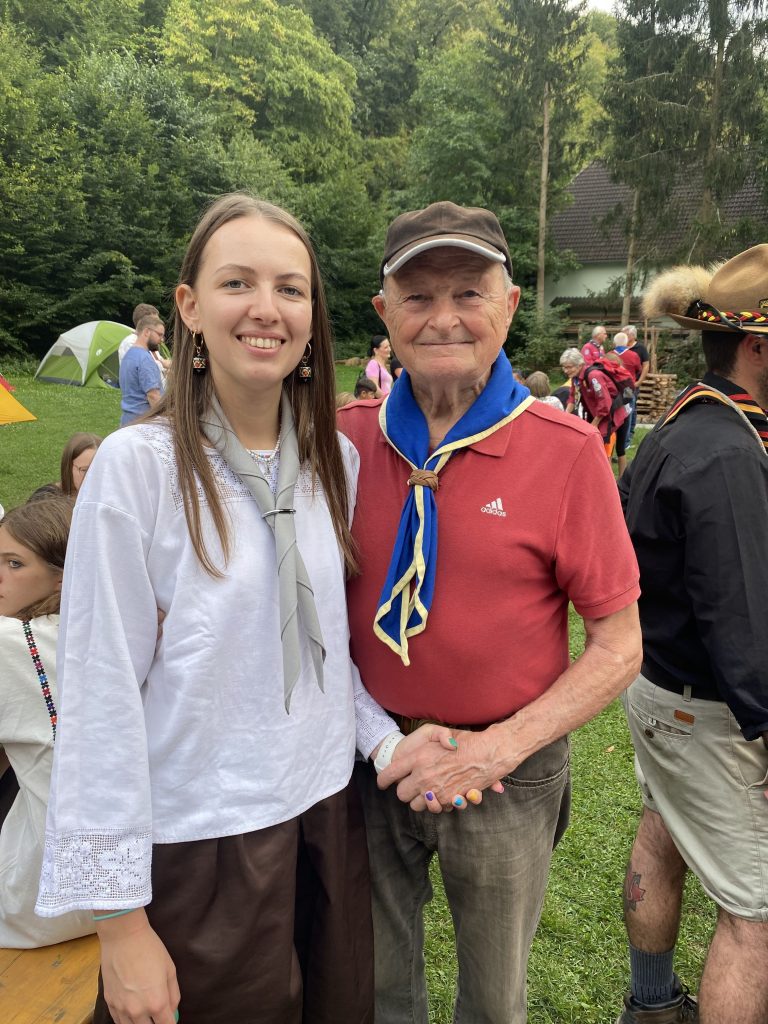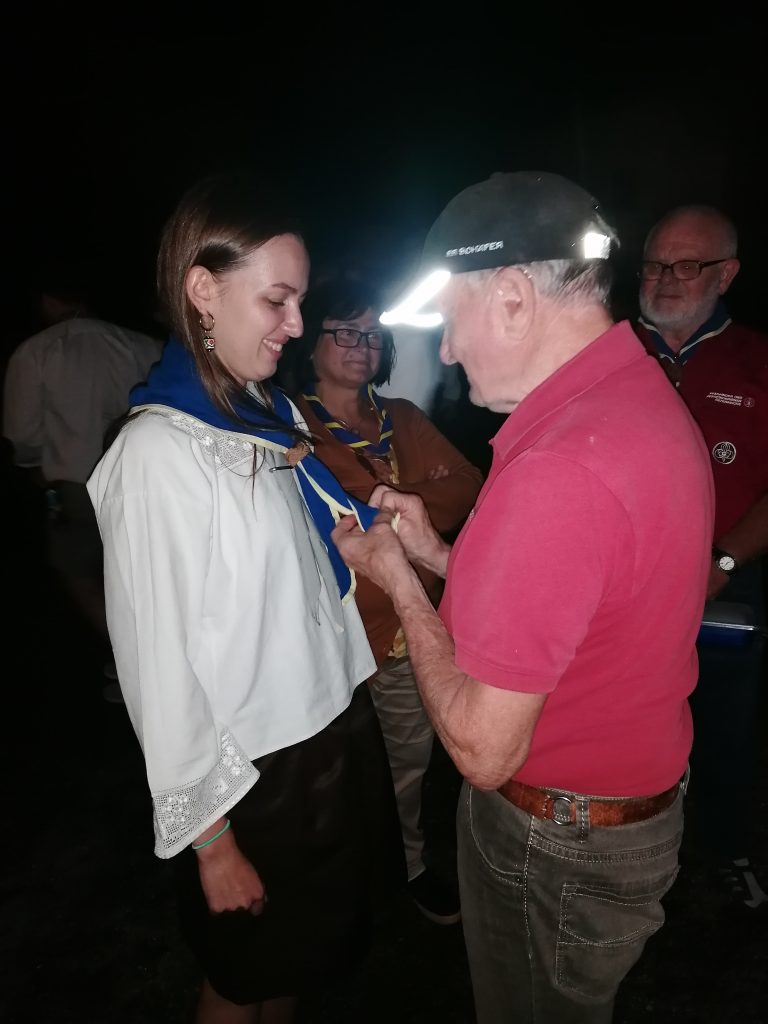 On the Independence Day of Ukraine, a camp of Austrian Plast scouts who camped together with other scouts from Ukraine and scout leaders from Canada, visited "Poburlakuymo svitami (Wandering the Worlds)".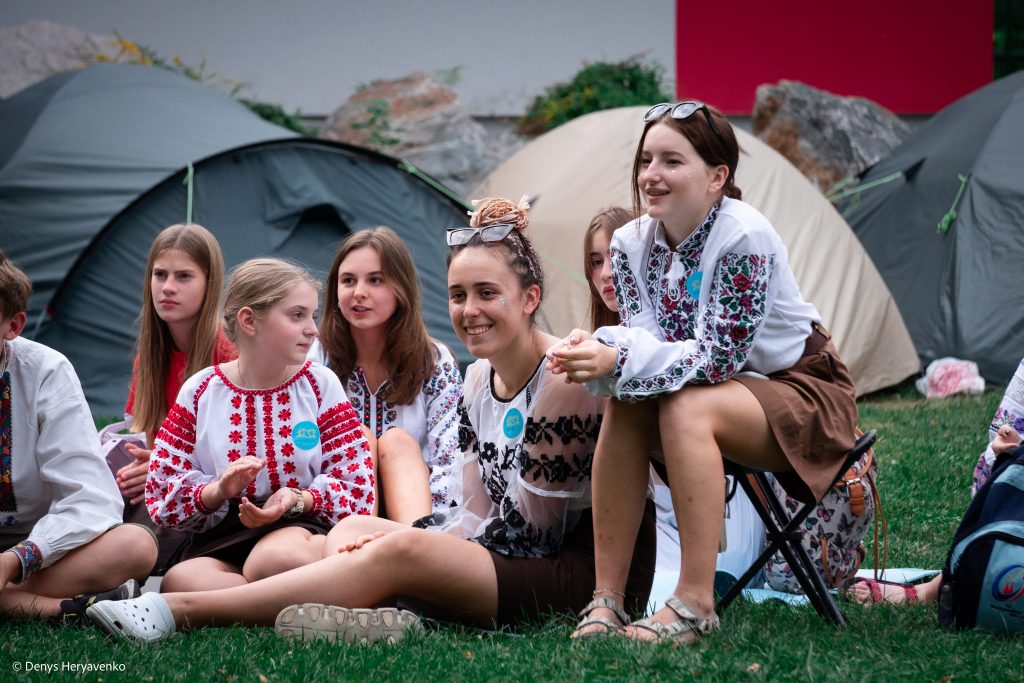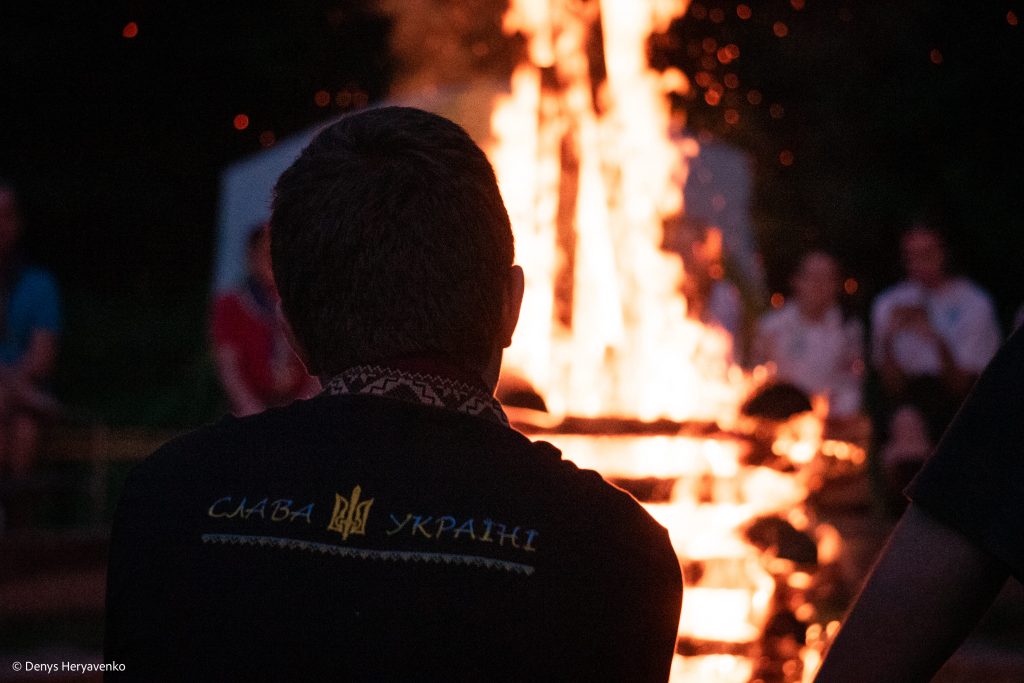 They joined into the festivities of the guest bonfire, along with families who lived nearby, local dignitaries and Austrian Scouts — together over 150 people. Everyone gathered in embroidered clothes and sang the National Anthem of Ukraine, with the blue-yellow flag waving on the mast overhead. Thoughts of friends fighting on the front and about the high price of Independence were in everyone's hearts.
IN DARK TIMES, BRIGHT PEOPLE ARE VERY VISIBLE
Plast has always been the center that gathers conscious and patriotic people, future leaders, the driving force of society. It remains so today: it is raising a new generation of Ukrainians who, in the near future, will help build a successful nation. The task for all scout leaders, instructors and other volunteers now — to gave them the maximal opportunity to learn, develop and to further build on the longstanding traditions of their nation.
Therefore, we would like to express our gratitude to those who helped us in this, and without whom "Wandering the Worlds" in 2022 would not have been possible. We thank those who "lent a shoulder" at a difficult time and helped us overcome challenges and cope with complex tasks.
The benefactors from the United States and from the National Council for funding and logistical assistance.
Local scouts from the town of Gars am Kamp, who helped us feel at home even though we were thousands of kilometers from Ukraine, especially the campground that welcomed us.
Plast Scouts from Austria who helped gather important information about the campground, who visited the camp to celebrate the Independence Day of Ukraine.
Also, the wonderful Ukrainian brands "Gorgany", "Comanchero" and "Leleka" who provided gifts for the top scoring campers.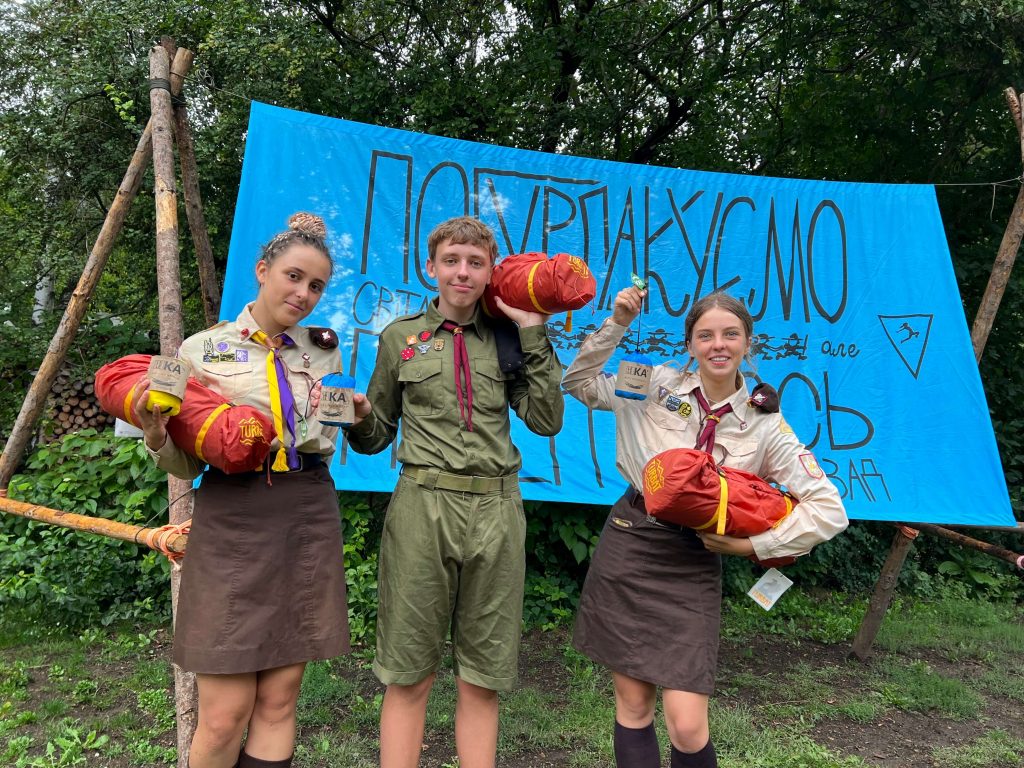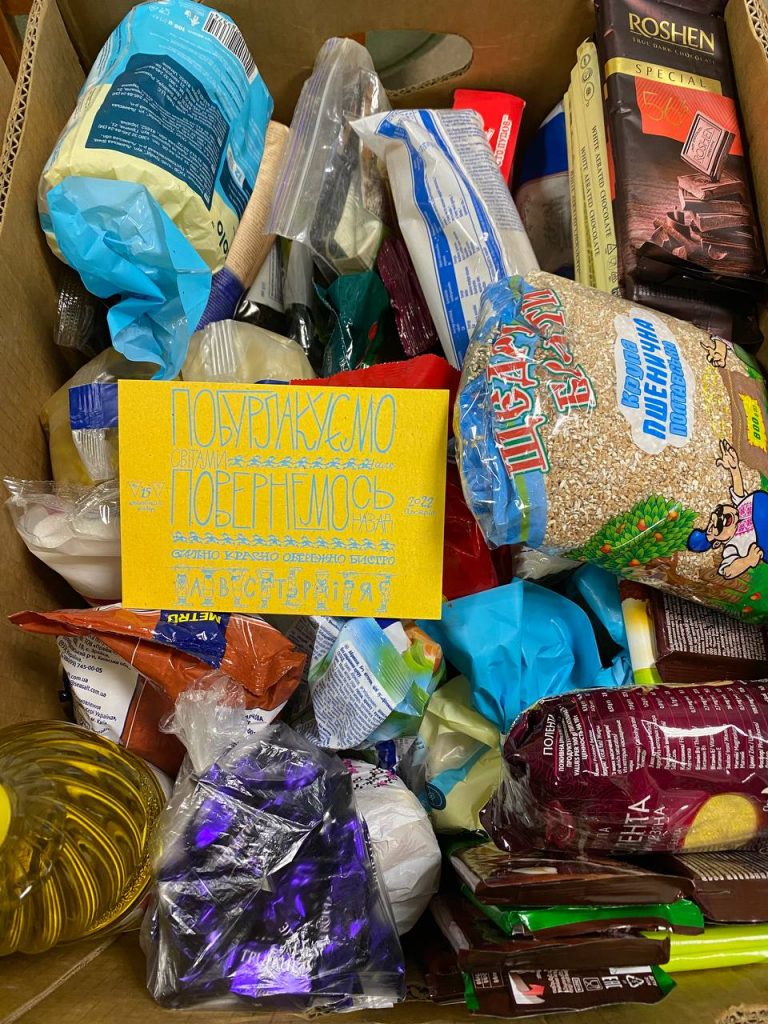 Also, with the help of the "Tarilka" food bank, all of the freeze-dried foods, cereals and sweets that remained after the camp were delivered to the Ukrainian defenders in Kramatorsk. Together, we are hastening our victory, each of us with our own, small or large steps, we are moving towards this goal.
Related news