We are confident that the best way to positive changes in the society is to educate responsibility in children. However, how to achieve this? We share the method of Plast members – Ukrainian scouts.We are confident that the best way to positive changes in the society is to educate responsibility in children. However, how to achieve this? We share the method of Plast members – Ukrainian scouts.
We call "Group system" the approach of work with youth – a kind of principle of self-government organization in scout groups. This system, together with Plast values and environment, are the elements of the educational process. The current Chairman of Plast National Council has been researching this system for more than 20 years and some of them are embodied in this article.
Let's deal with Plast educational method
"I always recommend group system, because it`s a big step towards success." – Robert Baden-Powell,
the Founder of Scout Movement
Educational work in Plast is carried out in groups of 6-8 children or teenagers. Three or four groups unite in a scout troop. Scout groups and troops are self-organized units, which help youth to try different roles and learns to bear public responsibility for a particular area. There are following roles in each scout group:
Leader of a scout troop or scout group (heads and coordinates the work of the unit);
Deputy Leader of a scout troop or scout group (performs the functions of a unit`s leader in his/her absence and make the internal audit of unit`s activities);
Accountant (is responsible for finances);
Secretary (is responsible for coverage of unit`s activities and the formation of internal documents);
Storekeeper (is responsible for unit`s belongings).
The basic educational unit in Plast is a scout group. However, the main organizational unit of scouting is a scout troop. It is within the framework of a scout troop a scout group can develop, as a team, more successfully and children could receive the full set of self-education opportunities provided by Plast.
According to the group system teenagers cooperates with each other within a scout troop. Once a year teenagers carry out democratic elections on previously named positions. These people form an executive body of a unit. They have to coordinate and prepare scouts for different events, training and competitions (and to organize some of them with help of mentors).
Scout groups and scout troops create and develop their own brands. For example each scout group has its own name and symbol and each scout troop its colors combinations, pattern and numerical order (to receive it, a scout troop should fulfill certain stipulations).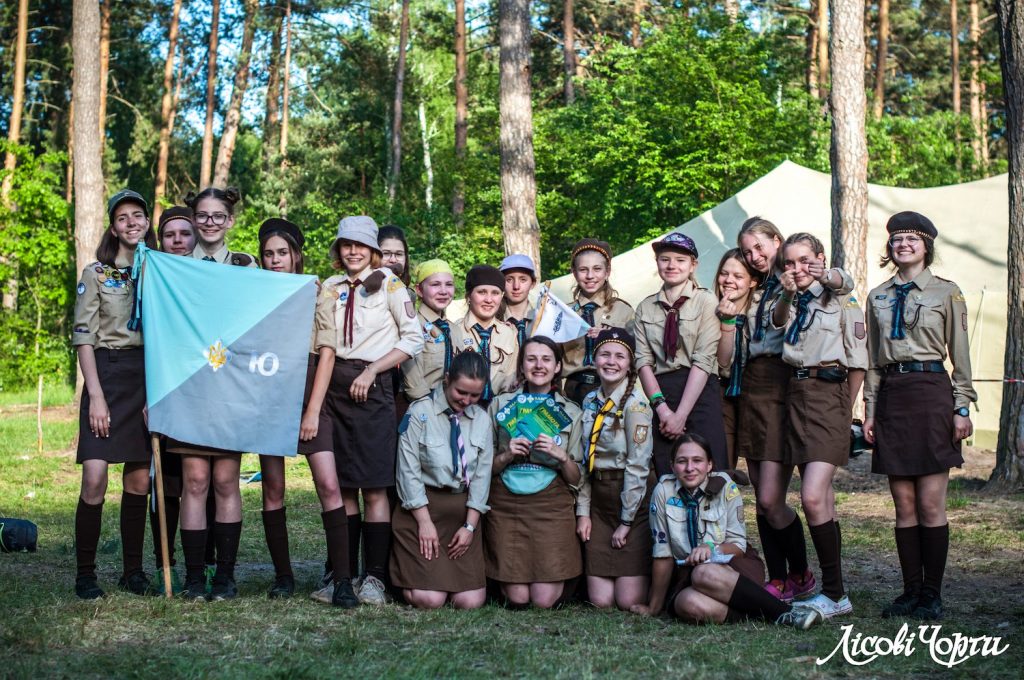 The group system was conceived as an opportunity for teenagers to interact with teams. In fact, it`s repeats the model of adult interaction of departments within one company. An important nuance is that youth, not adult mentors, play a key role in this model. In such circumstances, young people have opportunity to self-organize and develop democratic governance in the form of cooperation of several small groups.
Let's delve into the essence of the group system
Distribution of roles in a group, group`s symbols and even educational methods are all just a tiny part of what the founder of Scouting called "Group system".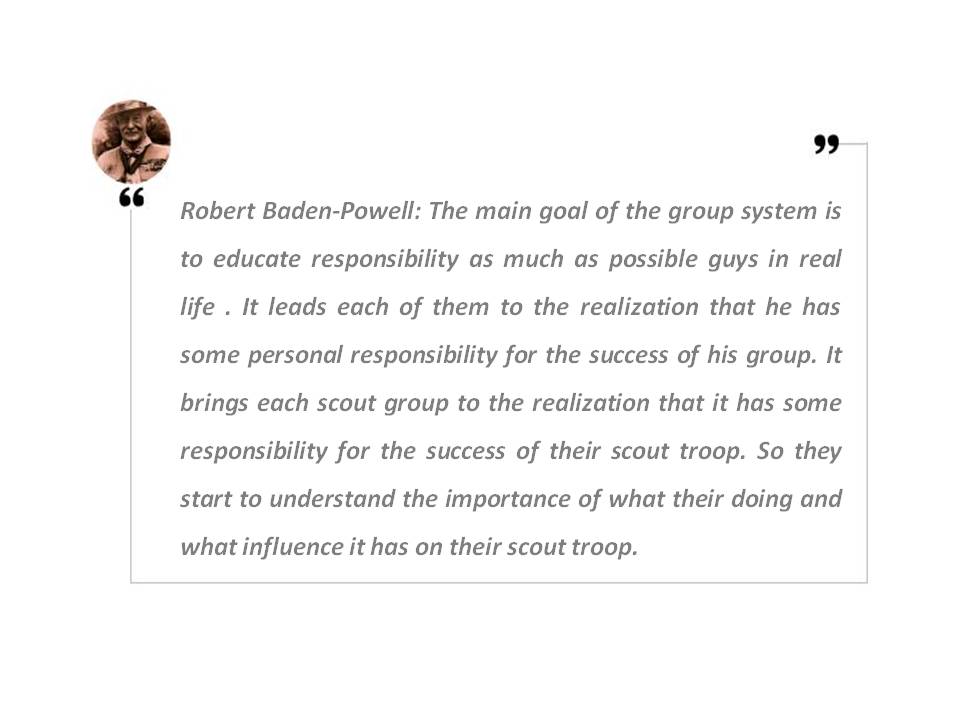 Let's explain what responsibility we are talking about on a historical example. Previously, in order to complete the scout leadership program, it was necessary to organize a new scout group and go through at least the first stage of the program with them. That is why Stepan Bandera used to be mentor of a scout group as a high school student, as well as many of his peers.
Plast's charter describes the group system as follows:
"Each group is responsible vis-a-vis a scout troop. A scout group is a school of character`s development and it is the first and most important educational cell in Plast ".
The role of adults in the educational system of small groups
Let's take a closer look at the role of adult mentors in such a model. There are scout group`s mentors (who works with 6-8 people from their group) and scout troop`s mentors who work with a troop`s leadership and is responsible for the whole unit. It is quite difficult to find and train volunteers for the role of mentors, because each of them has to be trained and gain certain competencies. Therefore, even in economically developed countries (such as USA), scout troop`s mentors play a key role.
They hold weekly activities, where groups work in teams led by scout troop`s leaders. The "chair" model mentioned above works on such stairs – in fact, the process is controlled, as a rule, by older scout leaders, who direct the activities of the younger ones.
It could seems that the group system makes the role of mentors not significant, because all responsibility is on youth (scouts). But that isn`t true, because to leave teenagers alone in a forest for example is a bad idea. In order for the model to work properly, mentors should prepare their scout groups for independent work and troop`s mentors should prepare troop`s leaders and mentors for all the groups. It takes from 3 to 5 years to build a qualitative group system in a scout troop, but as a result, the responsibility of a new level is developing in youth.
When a scout group is already working independently, mentors still stay close to teenagers in any activities: weekly meetings, mountain trips or summer camps. It is a kind of division of responsibilities between them and teenagers. The youth has organizational responsibility and responsibility for their own roles in a group. Senior and rover scouts should just explain, prompt, be around in difficult times, as well as maintain communication with parents.
Summing-up
Education of responsibility in Plast is provided by the group system and distribution of work. According to this system, young men and women belong to a scout group and to a scout troop. The group consists of 7-10 children, in which engagements are mostly held. The combination of several scout groups is a scout troop.
This approach is effective because in the group children learn to work in a team as well as in a scout troop to achieve synergies between several teams. Another advantage of the group system is that it is much more easier for several groups to organize a trip or a camp together. Most of the key events of Plast leadership program take place within a scout troop.
Each scout group has self-government, with elected positions of a leader, secretary and accountant. Similar self-government has also a scout troop. A scout troop`s leader decides what events will be organized in a scout troop during the year and assumes the main responsibilities for their preparation. Instead, the leadership of a scout group manage weekly engagements, where the Plast educational program is mastered. Rover and senior scouts (volunteers) play the role of a mentor and assistant in self-government.
Related news